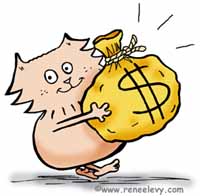 POUR ACHETER UN DESSIN...

Si vous choisissez un dessin dans mes archives, je vous ferais parvenir une version à haute résolution, sans tout le gribouillage anti-piqueurs de dessins. Vous pouvez aussi communiquer avec moi pour avoir un dessin sur mesure. Suivez ensuite les étapes du tableau ci-dessous...

TO BUY A CARTOON...

If you pick a cartoon in my archives, I'll email you a high-resolution version without all the anti toon-theft scribbling. You can also contact me for a custom drawing made to your specifications. Then follow the steps in the table below...

Je vous envoie ma facture par courrier électronique.
Vous me postez votre paiement (en dollars canadiens ou américains, par chèque certifié, traite bancaire ou mandat postal).
Dès réception du paiement, je vous envoie votre dessin par courrier électronique.

I email you my bill.
You mail me your payment (in Canadian or American dollars, by certified check or by bank or postal money order).
Upon receipt of payment, I email you your drawing.
Accueil | Portefolio | Dessin du jour | Caricatures | Le grand verglas | Dessins sérieux | Liens

Home | Portfolio | Toon of The Day | Caricatures | The Big Ice Storm | Serious Drawings | Links